Caregivers
The Caregiver Support Group is open to all in our community. Funding for this support group is generously provided by a grant made possible through Michigan's Aging & Adult Services Agency, Senior Resources of West Michigan and the Older Americans Act.
Each Thursday morning from 10:00am – 11:15am in a comfortable room at The Little Red House, Jim Powers, ACSW, offers a listening ear and seasoned advice to anyone who is caring for a friend or loved one with physical, cognitive, or psychosocial limitations. Jim helps find ways to alleviate the stress of caregiving and educates caregivers concerning local resources and how to access them..
For more information about The Little Red House caregiver support group services, call Jim Powers at (616) 402-8042.
The Little Red House is in full compliance with Title IV of the Civil Rights Act.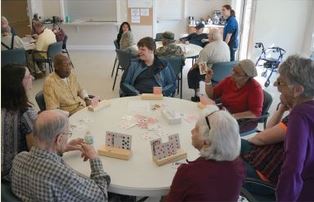 Join the Discussion
Meetings held every Thursday morning from 10:00am – 11:15am at The Little Red House.