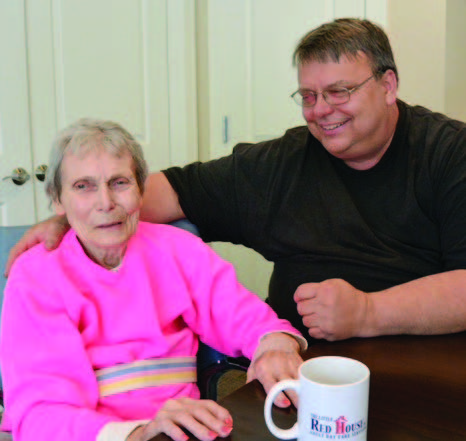 Stuart Baron was fresh out of ideas and desperately short on options when his widowed mother's health reached a crisis point. She had been admitted to the hospital in nearby Shelby, Michigan, and treated for pneumonia. But as Lydia Baron was being discharged into the care of her son in rural Hesperia, a nurse at the hospital asked Stuart a question that ultimately would lead to a solution for his dilemma:
"Have you ever heard of The Little Red House in Spring Lake?"
Stuart, who has commuted to work at the Herman Miller, Inc. manufacturing plant in Spring Lake Township for more than 30 years, was unfamiliar with The Little Red House and its services. But he did an online search and requested a phone call from a staff member to discuss his mother's needs and how they might be met at the adult day center. He quickly learned that he could drop off his mother at The Little Red House each weekday before starting his daily duties at the plant and then pick her up for the return trip home.
"I was at the point where I didn't know what I was going to do," recalled Stuart. "Finding The Little Red House has allowed us to continue having more or less normal lives. It was fortunate we found this place so I could continue with my job and my mom has really flourished here." For Stuart's mother Lydia, her daily routine at The Little Red House includes a wide array of activities designed to engage body, mind and spirit — a regimen of exercises, games, music, a nutritious lunch break, as well as great opportunities for socialization with staff and other participants.
"Immediately, my mom took to the staff and daily activities at The Little Red House," Stuart said. "The change in her attitude about life in general was so strikingly improved that I called my brother in Georgia at the end of the first day and told him about the positive (news). It was nice to relay good news for a change. When the first week was done, I was amazed at just how much better my mom was doing emotionally and mentally."
That was about a year ago, and Stuart and Lydia both remain delighted with the compassionate care and peace of mind that The Little Red House has provided for them since. "The Little Red House has given my mom a purpose and a reason to get up in the morning," Stuart added. "She has a meaningful place to participate in life again. My mom has set a goal to help as many people as she can each day at The Little Red House. She may not be able to help physically or mentally all the time, but she loves to pray for people and asks God to send his angels to be with people who are struggling."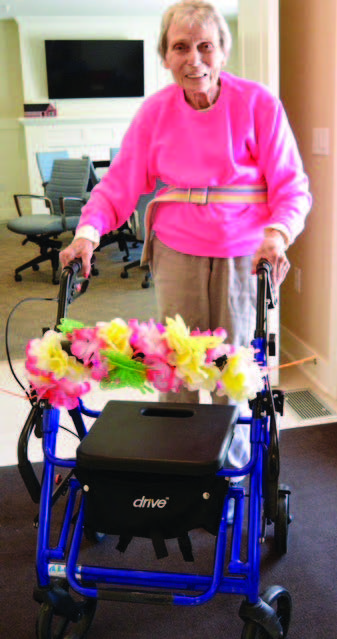 Stuart noted that his mother has experienced many challenges and hardships in her life, which began when she was born near Detroit in the dark days of the Great Depression. "She was just six years old when her dad died and her mom lost their home," he began. "Then she dealt with the death of her mom at a relatively early age and also the deaths of her four brothers, one of whom was killed in Italy as a fighter pilot in World
War II.
"After marrying my dad," he continued, "my mom raised me and my siblings on her own as my dad worked on Lake
Michigan and was gone three weeks of the month. There is no way to measure how the burden of these things has impacted my mom over her life. But she deserves to be happy now until God takes her home.
"And I can sincerely and thankfully say that The Little Red House has brought a new dimension of happiness to my mom's life, for which I'm truly thankful."