Keating Family Experiences Generational Impact of The Little Red House
Jim Keating has witnessed the impact of The Little Red House from multiple perspectives. As Board President, he's engaged in helping set direction and soliciting support for the community's premier adult day care services provider. But through the first-hand experiences of his late mother and now his sister, he's gotten an even more personal and intimate glimpse into the comprehensive, compassionate care provided daily to participants at The Little Red House.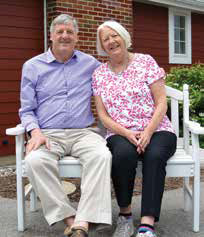 "It's been a godsend for our family — and so many other families," says Keating, a longtime Northwestern Mutual insurance agent who first turned to The Little Red House for services for his mother during her difficult sojourn with Alzheimer's disease. More recently, he's taken frontline caregiver responsibilities for his widowed sister, Karen Metcalf, who also has deepening dementia.
"Karen loves doing the activities, and the staff makes sure that everyone is safe and cared for, according to their individual needs and personalities," Keating adds. "I'm thrilled that she's here. It's benefited me, and it's a great benefit for Karen, too."
For her part, Metcalf voices delight with her experiences at The Little Red House. "This is a great place," she says. "I like everything about it. It's good for me, and I love coming here — otherwise I'm sitting at home, eating and watching TV. They have a lot of different things for us to do. They do a good job of it. I can't believe how nice they are. They have to deal with a lot of personalities."
Metcalf graduated from Grand Haven High School and Michigan State University before beginning a teaching career that included a long tenure at Forest Hills Central High School just east of Grand Rapids, and later as a substitute in the Spring Lake and Grand Haven districts.
After her husband's sudden death, Metcalf began to show mounting signs of dementia, requiring more and more care and attention from Keating, who fortunately lived next door.
"I was doing a lot of caregiving," Keating recalls. "It consumed me, and I didn't see it."
Jody Herrelko, the Executive Director of The Little Red House, noticed — as did other board members.
"The board could see that Jim was struggling with caregiver stress," says Herrelko. "A huge part of our mission is to provide not only care for our participants, but also much-needed respite for the caregiver. So now Jim gets his life back in balance, and we take care of Karen's meds, the full-menu options for a nutritious lunch, she gets a shower, she takes our bus back home. She loves being here. She knows she needs to be here and that she's safe and loved here."
Metcalf clearly appreciates her brother, as well as the team at The Little Red House.
"He and I are real close," she said of Keating. "First he took care of our mom, and now he's taking care of me. He's probably ready to go to Florida. But he and the staff here, well, they have the patience of Job."
Keating's involvement with The Little Red House dates back to 2000, when his mother was a participant.
"Out of a desire to give back, Jim became our first community volunteer, and he would come to assist with activities and anything else we needed," remembers Herrelko. "Nobody knew about us then. Nobody cared much about volunteering. But Jim understood. I asked him to join the board in 2013 and he's been instrumental in growing the facility and enabling us to serve more people. Now we have the state-of-the-art adult day care service, and Jim and his family have been a key part of making that happen, and ensuring that we maintain our excellence."
Keating is grateful for his long and deep relationship with The Little Red House, noting that the services provided to his family members have come at "a reasonable cost for the peace of mind that they afford."